Set your style with the Perfect Rug!
Posted by Debbie Voudouris on 31st Jul 2014
A living space loves a rug, it's a must have. A rug grounds a room and acts as an anchor for placing furniture and creating different zones in a space.
When selecting the perfect rug, consider the look and feel you would like for your space. Do you want to feel uplifted or relaxed? Discover your style by asking yourself why you are attracted to certain things. Do you like pattern or to keep things simple? Are you drawn to colour or neutrals? There are no right or wrong answers. You are unique and your home should reflect what you like and how you want to live.
So be brave and have fun discovering your style and selecting the perfect rug for YOU!
Feel your style:

FUN and LIVELY with Bohemian styleFor a fun and lively look, go with contrasting colours and patterns and let your imagination go wild. Think bold pattern, colour and textures: chevron, exotic quatrefoil, crocheted styles. Allow the rug to be the focal point by keeping other pieces understated.
Relaxed and Natural with Coastal StyleTo achieve a relaxed and calm feel with understated simplicity, be restrained with colour and pattern. The natural style is about introducing natural fibres such as sisal, jute, coir, seagrass and cotton. Colours are mostly neutral or you can introduce red, navy, black and white for a more polished Hamptons Style.

Cool and Rustic with Industrial StyleThink city loft style with a simple furniture layout, unexpected pieces and re-purposed minimal decoration. Make a statement with a bold cow hide rug, over timber floor boards or polished concrete for an edgy feel.

Laila Cow Hide Rug In Tan (zohiinteriors.com.au)

Chic and Glamorous with Hollywood Regency StyleFeel chic and glamorous by indulging with chandeliers, mirrors and luxurious finishes. The Hollywood Regency look is elegant and refined. Use luxurious plush piles in geometric classical designs to make a bold statement.

Photo care of Cafe Lighting.



Size and placement Tips
Living SpacesSize and placement are important consideration when selecting a rug. It may be useful to draw up your space and look at furniture layout, in relation to the size of the room. A larger scale rug with all the furniture sitting on it, will make the room appear larger. Another option is to have the front legs of your sofa sitting on the rug to ground the space.
If the rug is floating, it can work as long as its in proportion to the other pieces of furniture in the space.
Round Vs. Rectangular
A rectangular rug works best to frame a large sofa of where there is seating on at least 2-3 sides of the rug. A round rug can work in a smaller living space or hall way or if you would like to make a softer statement.
Dining Rooms

When placing a rug under a dining table, ensure that it will be wide enough to extend to when the dining chairs are being used. Allow at least 60-70cm on each side of the table cover. It is also wise to consider stain proofing rugs for the occasional accident.

Bedrooms

In a bedroom where the bed is accessed from both sides, a rectangular rug can be placed under the bed (three quarters of the way from the front of the bed). If you access the bed mostly from one side , you can place a rectangular rug one side of the bed or you use a round rug under one side of the bed.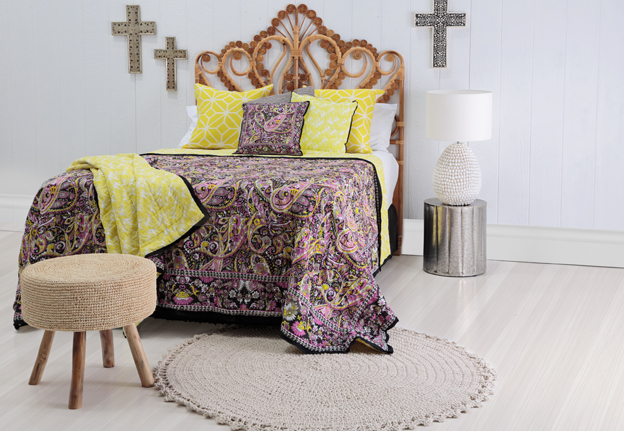 Roped Up Rug In Ivory (zohiinteriors.com.au)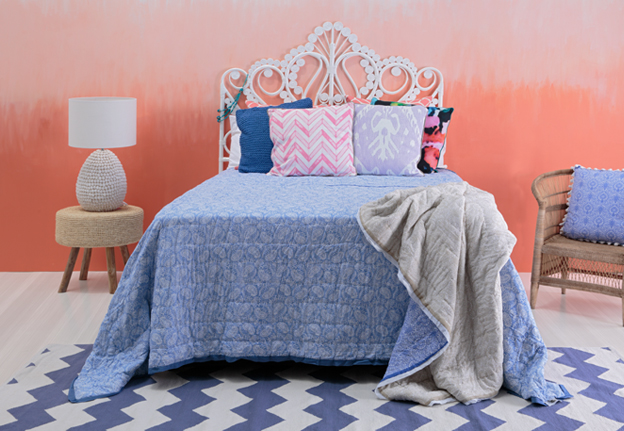 Laguna Indigo Blue Chevron Dhurrie Rug (zohiinteriors.com.au)



Outdoor Rugs
Our outdoor spaces need not be neglected in the rug arena, as there are so many durable synthetic styles available now. Style like you would a indoor living area and have fun co-ordinating cushions and other accessories.
Click here to view our whole range of rugs on zohiinteriors.com.au
Debbie x
Zohi Interiors