5 Ways To Transform Your Home Into Your Sanctuary
Posted by Zohi Interiors on 1st Nov 2023
When life causes you stress and worry, it's more important than ever that your home is your tranquil retreat where you can relax in after a hard day. It should be a place where you can close the door and forget work, technology and the pressures you face. If you're 'time poor', like most people are, any chance for relaxation or down time you have at home will feel like a treat. Why not make it a luxurious 'I deserve to be spoiled' treat?

You can transform your home – not just by adopting a style or following a decorating trend – but by reclaiming the original sense of 'home', which is the place you feel at your most comfortable and refreshed.
Here are five top tips to turn your home into your sanctuary:
1.Bring the outdoors in; take the indoors out
Luxury can be found in the simplicity of nature. Why not bring it right into your home?
Use colours and textures inspired by the outside world, to bring you the tranquility of nature. Think moss or olive greens and aquamarine or sky blues or cream and ivory for a more subtle gesture. Raw timber, cane and rattan furniture add texture with style and appeal. Natural fabrics – linen, cotton, wool and jute – are favourites in any season.
To accessorise, wooden bowls, tribal art or sculptures add interest and natural charm. Introduce water features and organic forms to refer back to nature. Wall hangings or wall art with your favourite natural landscapes will transport you to places you love or dream about. And real (or faux) plants in your living spaces blur the line between indoor and outdoor.
Create a natural extension into courtyard and garden, using the same themes. And if the movement from inside to outside isn't 'seamless' make it appear so by planning beautiful vistas from your windows.
2. Introduce soft and comforting textures:
Being able to touch and interact with the objects in your home is extremely powerful. It affects your emotions and your mood. Introducing soft and enticing and comforting textures into your living spaces will subconsciously lead you to mental as well as physical relaxation.

For your well-being, always have restful, supportive sofas and chairs, with cushions that are for your comfort as well as to enhance your décor.
To calm your mind and body, make your bed a comfy and attractive oasis, with soft linens and coverings. The better rested you are, the more at peace you will be.
The texture of curtains and rugs should match the season and also be tactile and welcoming.
3.Make your bedroom your boudoir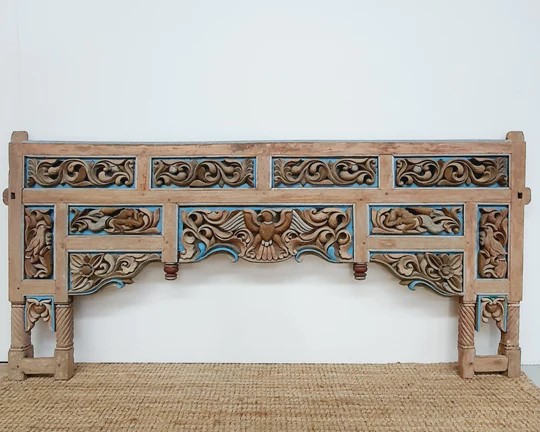 What's more luxurious and relaxing than a touch of the exotic. Your bedroom is already your private retreat.
Make it one you don't want to leave (even though you know you have to).
There's no need to mention that romance flourishes in relaxed exotic settings....
4. Transform your bathroom into a luxury spa
The room in the home with the most potential for relaxation is undoubtedly your bathroom. Whether you have a shower to steam aware your cares or a large tub to luxuriate in, your bathroom can be your day spa without the need to leave home.
To enjoy it even more, create a feeling of luxury with touches of glamour. What about a chandelier or stunning Moroccan pendant light? Or a mirror that says sheer opulence whenever you look at (or in) it.
Large fluffy towels are a must.
5. Add indulgent treats
For luxury and serenity, never ignore the details. You can treat yourself in small ways. Think about the sights and smells that make you feel most comfortable and relaxed and incorporate them throughout your home.
Do you love certain combinations, such as glass and metal or cane and linen? Do certain shapes please you? Does a small collection of treasures, perhaps from your travels, bring happy memories? The possibilities are unlimited.
For the luxury of fragrance, scented candles, soaps and fresh flowers are all cost effective indulgences that can take your mind to a calm and relaxed place.
~~~
Try these tips and, before you know it, your home will be your sanctuary – the place where you can relax, recharge and unwind. Bliss!