Zohi Interiors Definitive Guide to Styling Cushions
Posted by Sharon Lenon on 10th Aug 2018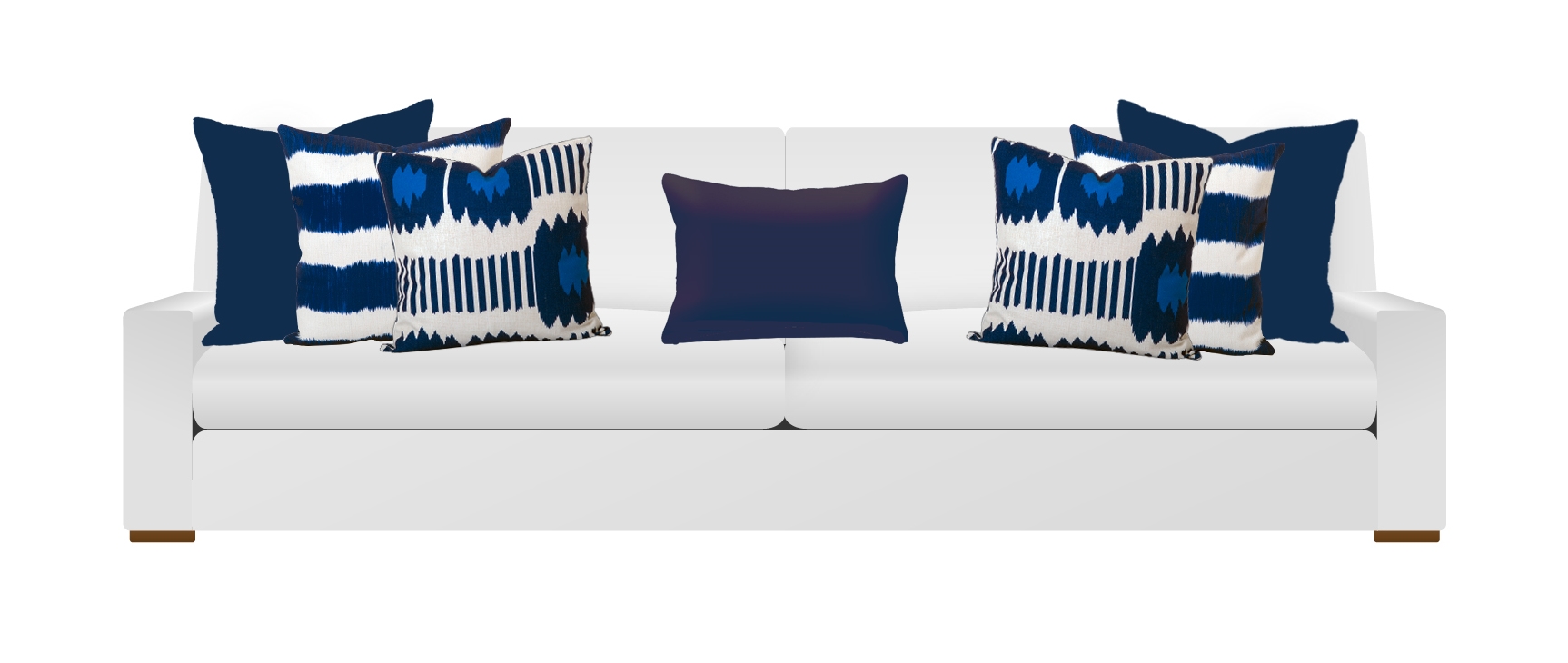 HOW TO CREATE CUSHION MAGIC!
Your Styling Guide to the Perfect Cushion Arrangement
Dollar for dollar nothing gives a room more magic and style points than carefully selected and beautifully arranged decorative cushions. They add personality to a room and add hugely to the overall style of a space. Colour co-ordinated decorative cushions also make a room feel more cohesive by tying all the room's colours together.
However, getting the combination just right can be harder than it looks. Mixing different patterns, hues and sizes in a cohesive way is an art in itself, whether you're decorating a casual living room or a more formal space. With our Cushion Styling Tips you will be arranging cushions like a pro in no time.


1. CHOOSING YOUR CUSHION COLOURS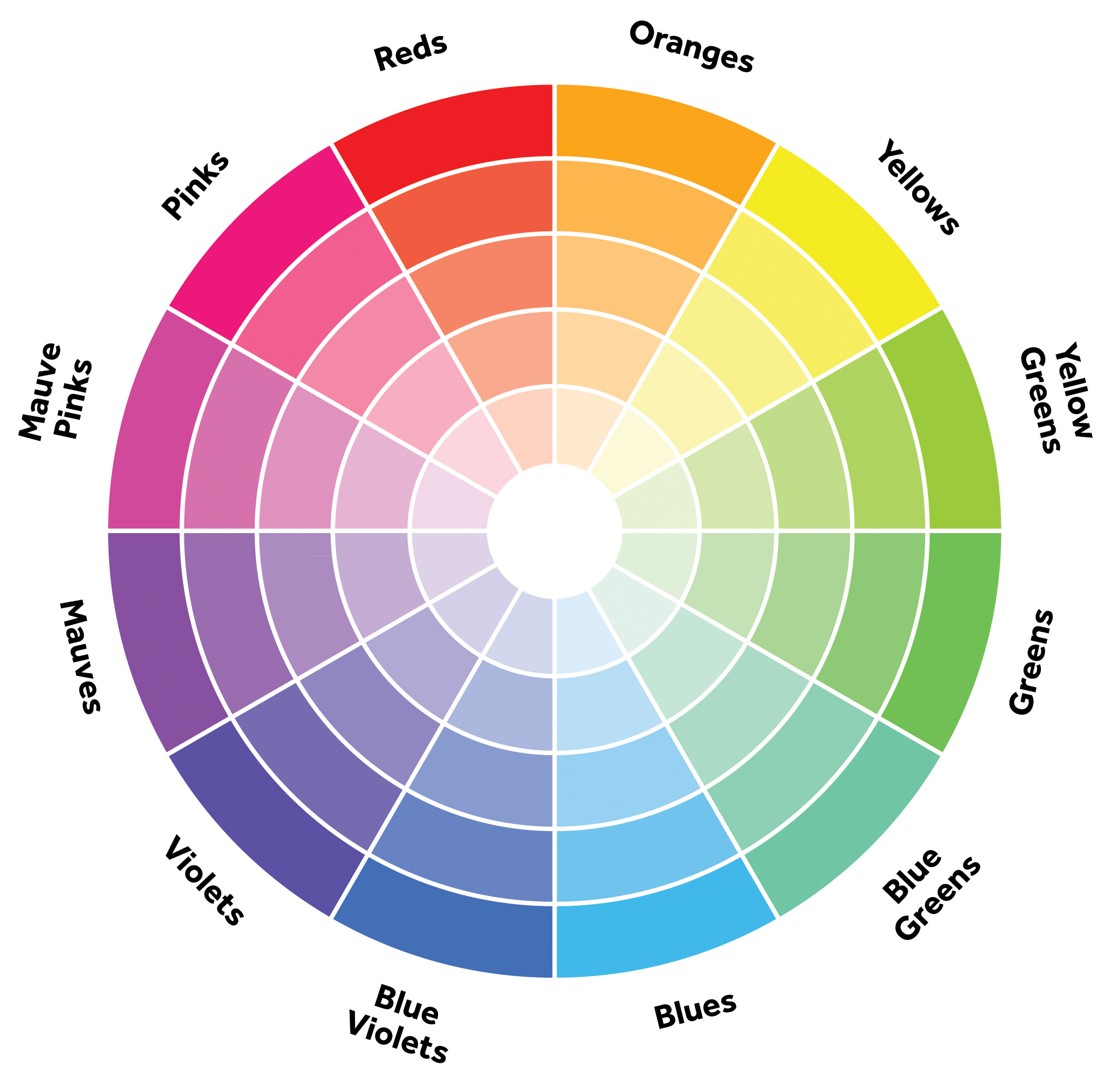 Choosing your cushion colours is an important part of creating the look and feel of your room. If you're working within an existing colour scheme, you need to determine exactly what the colour palette is and then choose cushions which include one or more of these colours. An easy way to do this is to take a colour wheel or swatches into your room and match up the most prominent colours in your hard and soft furnishings and decorative accessories. These could include artwork, a rug, sofa or occasional chair. These colours now form your colour palette and can guide your cushion colour choices. There's no need to be too nit-picky; your cushion colours don't have to match up exactly and if they're patterned, they only need one colour to make it work.


2. CREATE A STRONG BASE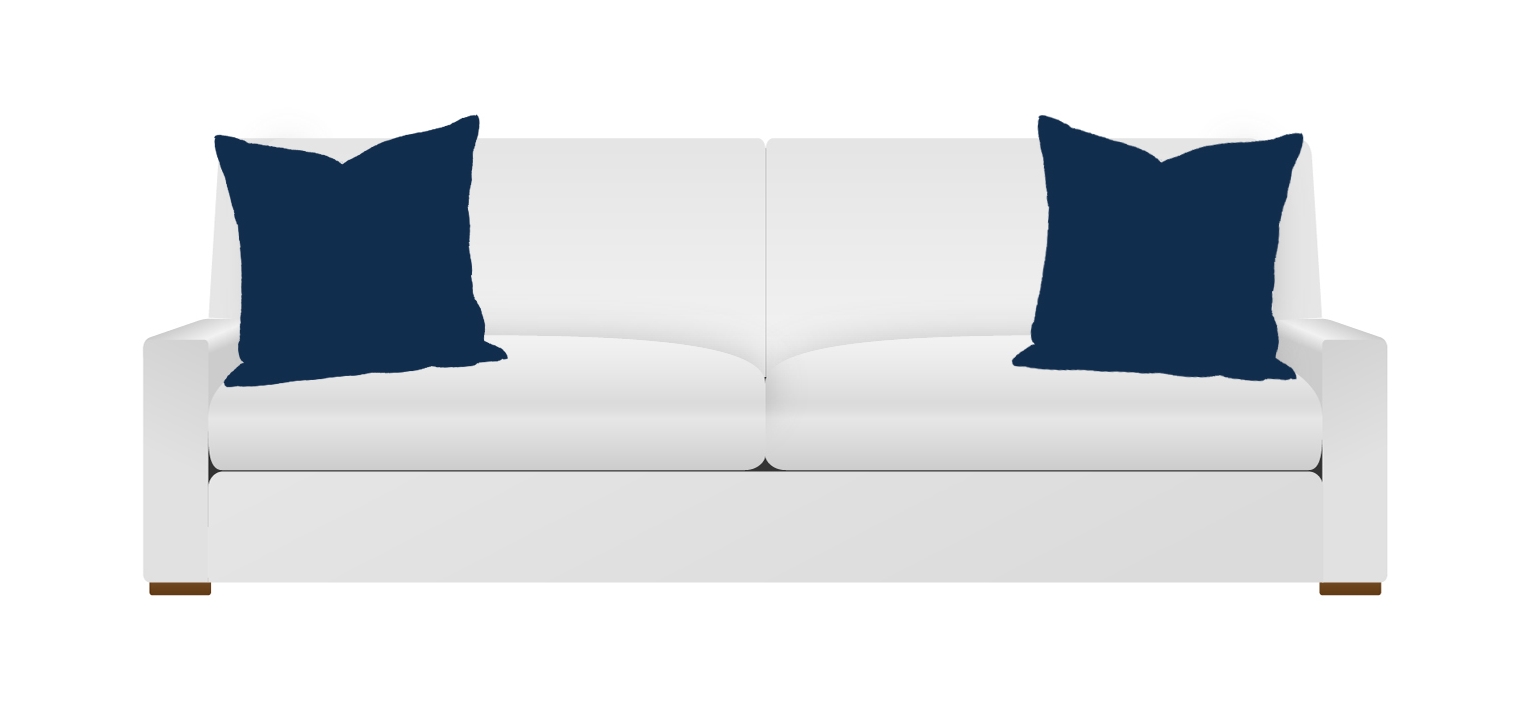 The next thing to do is create a strong base for your overall cushion arrangement. Start with two largish matching cushions on each end of your sofa. A 50cm square shape is ideal. These can be a solid colour or a print. In the above image, a pair of solid colour Blue Bayou Accent Cushions (50cm) from the Cushion Bazaar Collection has been used to set the tone for the whole arrangement and create symmetry for the mix-and-match cushions.
3. ADD ANOTHER LAYER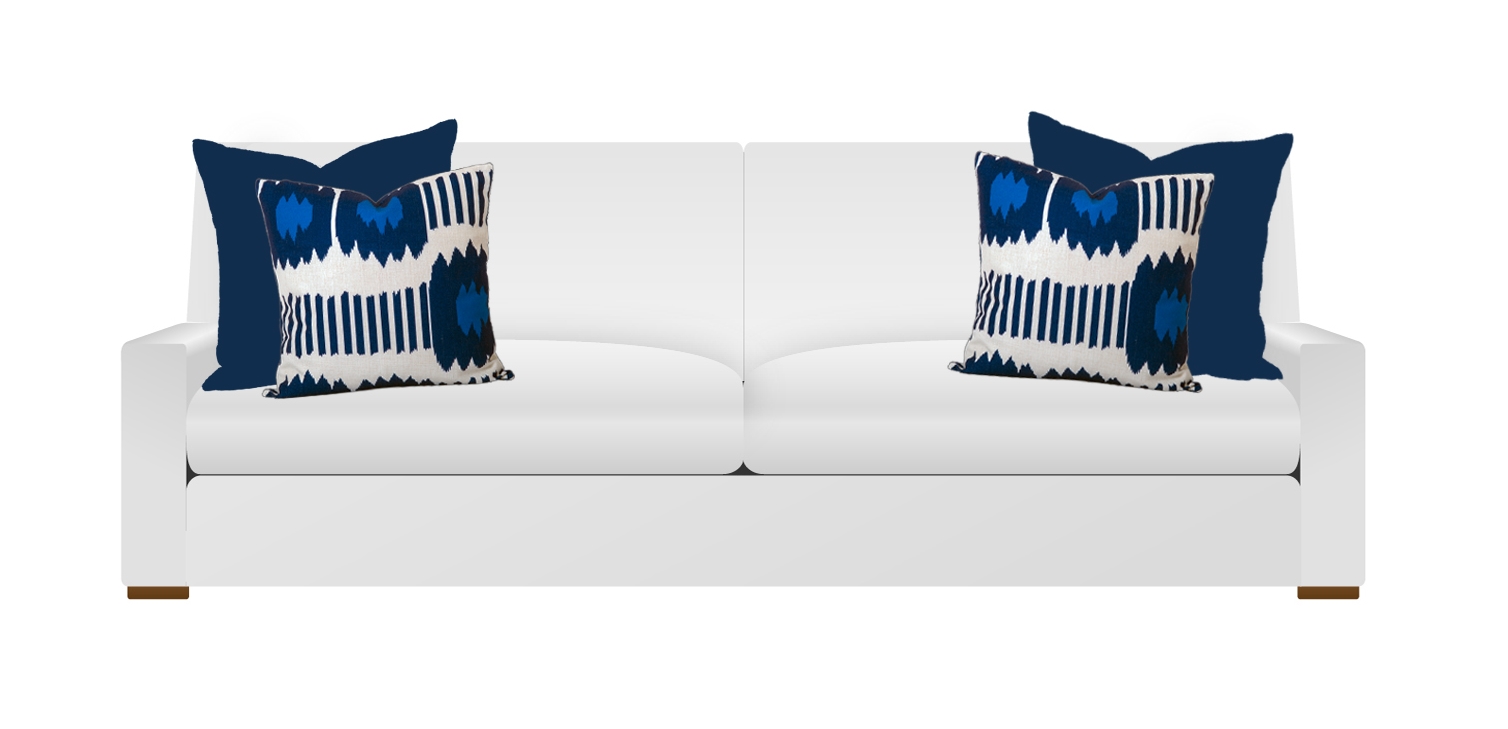 Once you've decided on your base, add another layer in a different fabric and choose a slightly smaller size. You can use two matching cushions for a format look, or use two cushions that don't match for a more eclectic feel. Or just use a single co-ordinating lumbar cushion. Again we've used two Blue Bayou Accent Cushions (50cm) as our base and combined this with two Blue Bayou Ikat Cushions (45cm) from the Cushion Bazaar Collection.

4. MIX SMALL AND LARGE SHAPES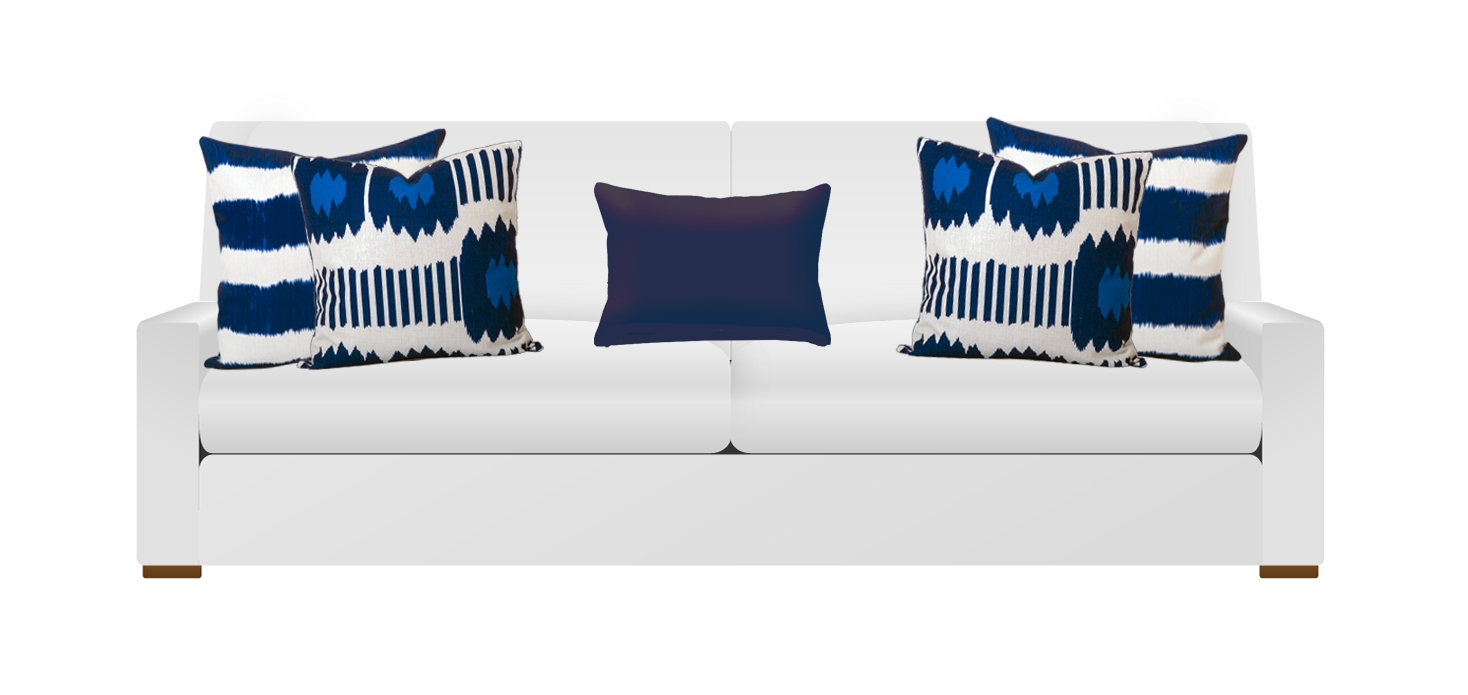 x and match small and large sizes and complementary patterns in the same colour story to create a focal point for your room and a more homely and welcoming look. Large and small arrangements of cushions show off the length on your sofa and highlight your sofa as the centre point of your living space. Here we have used a combination of two patterned and one solid colour cushions. As our base we have used the Blue Bayou Ikat Stripe Cushion (50cm) and layered this in front with the Blue Bayou Ikat Cushion (45cm). Finally we have finished off the arrangement by adding a rectangular Blue Bayou Accent Cushions (30x50cm) in the centre.
5. COMBINE TEXTURES AND LAYER COLOURS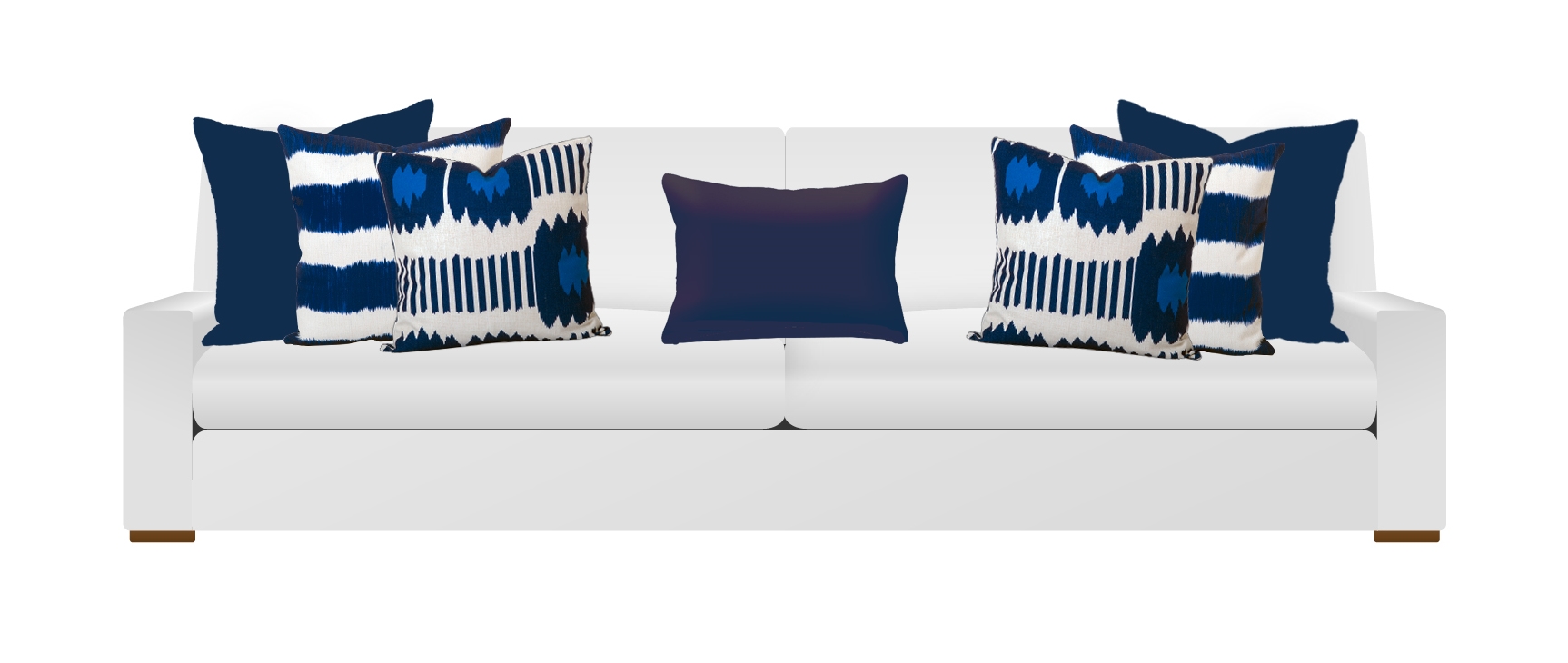 Combine textures, layer colours and mix solids with patterns that co-ordinate. Don't go crazy with to many patterns and colours or the effect will likely overwhelm! So keeping the cushion arrangement classic and simple we have used two Blue Bayou Accent Cushions (50cm) combined with two complementary patterned cushions; the Blue Bayou Ikat Stripe Cushion (50cm) and the Blue Bayou Ikat Cushion (45cm) from the Cushion Bazaar Collection, finishing with the rectangular Blue Bayou Accent Cushion (30x50cm) in the centre.

6. STICK TO ODD NUMBERS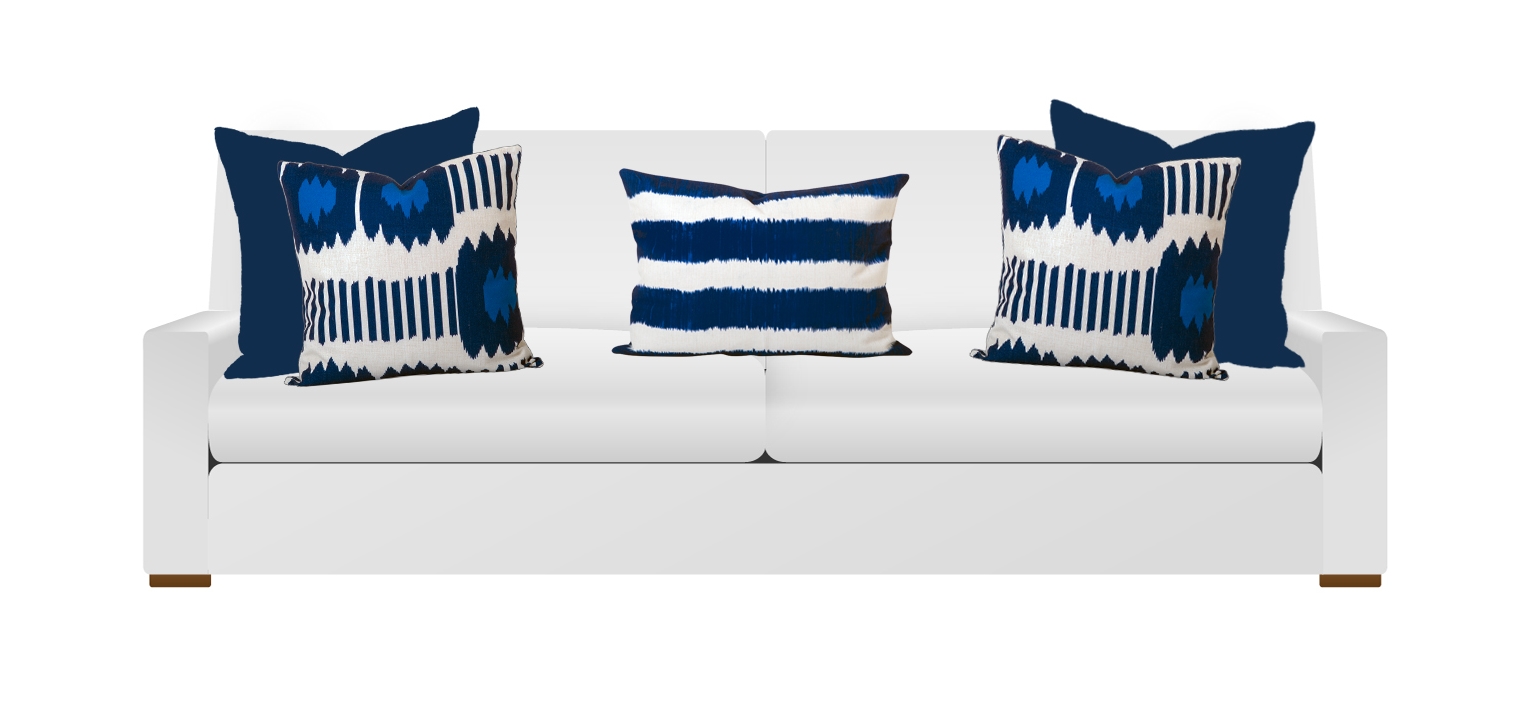 It's true for cushions (and it's true for almost everything else); odd numbers look more relaxed and natural in an arrangement. You don't want so many cushions on your sofa that you have to remove a bund before being able to sit down. I usually go for 5 cushions on an average sofa, or 3 on a smaller one. Consider using an "odd man out" cushion in your cushion arrangement. Here the rectangular Blue Bayou Stripe Ikat Cushion (30x50cm) sits amongst the base Blue Bayou Accent Cushions (50cm) and the Blue Bayou Ikat Cushion (45cm), standing out and fitting in.


7. USE 7 OR 9 CUSHIONS FOR LARGER SOFAS OR MODULARS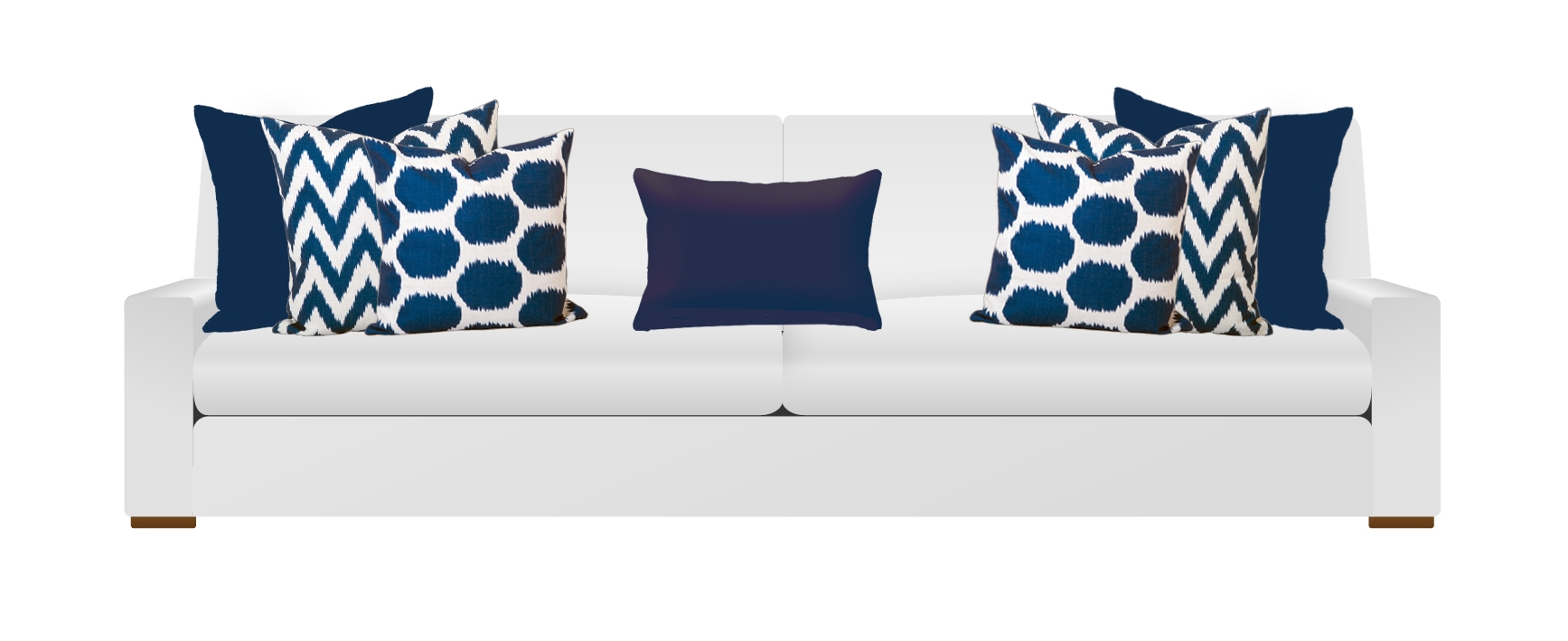 For larger sofas or modulars, you can use a 7 or 9 piece cushion arrangement. Here we have a stylish combination of one solid and two patterned cushions. The base of this arrangement is again is two Blue Bayou Accent Cushions (50cm) combined with the Gaia Coastal Blue Ikat Chevron Cushion (50cm). Layered in front is the Arzu Coastal Blue Ikat Dot Cushion (45cm) and in the centre a rectangular Blue Bayou Accent Cushion (30x50cm). Three sizes of cushions which layer perfectly together.


8. DECIDING WHAT TYPE OF CUSHION INSERT TO USE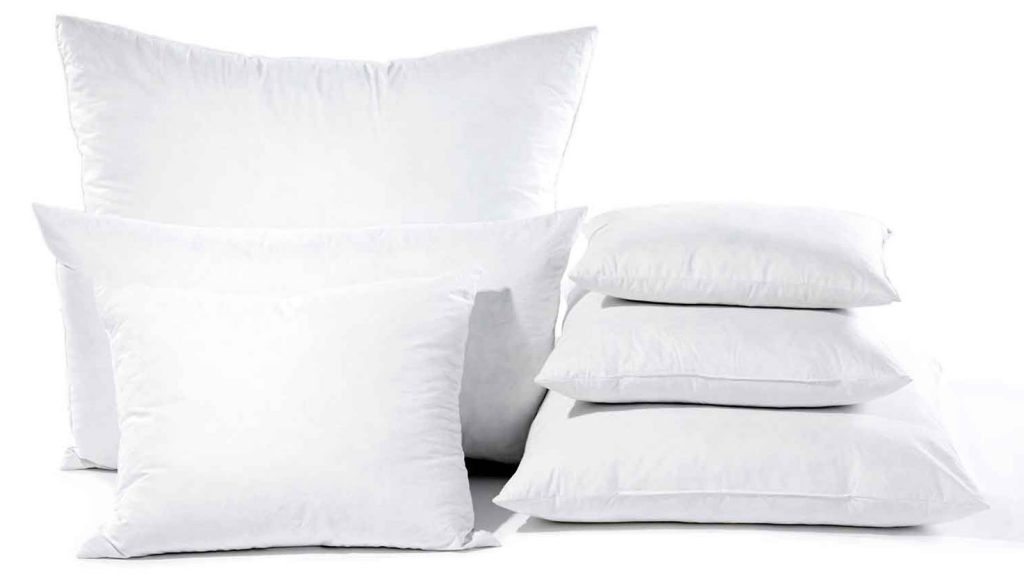 Your choice of cushion insert will determine the overall look and feel of your cushion, so this needs to be carefully considered. A cushion insert gives your cushion its structure and will determine how plump and cozy your cushion will be. There are two main types of cushions inserts to choose from; Polyester or Duck Feather and Down. Let's take a look at both these options.

Duck Feather and Down Inserts
Cushions with duck feather or duck down inserts provide plushness and a squishy feel that feels cozy and comfy, and is the preferred choice of interior designers. Down and feather cushion inserts look more opulent, stay in place better, and conform to your shape. They do however require regular fluffing up to maintain their shape. Because of their high quality fill, down and feather inserts cost a little more but with proper care, they can last much longer than polyester inserts, making them a worthwhile investment.

Polyester Inserts
Polyester cushion inserts are lightweight, easy to wash and have a firmer shape. If you're looking for a non-allergenic and odourless material, then polyester inserts are a good choice. Polyester cushion inserts offer good back support and keep cushions full and upright. They are also the most cost effective option and a good choice in busy rooms. However the downside of polyester inserts is that they are fairly rigid, lose their shape over time and need to be replaced every 12-18 months.


9. PREPARING YOUR CUSHIONS TO LOOK THEIR BEST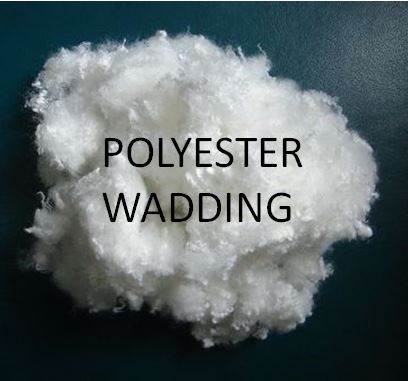 To give your cushions the best possible shape and appearance, use this quick and easy designer's tip. Before you insert your cushion pad, take some extra polyester wadding (you may have some left over from an old cushion insert) and fill the bottom 2 corners of your cushion. Then insert your cushion pad. Now zip up the cushion half way across, then insert some wadding into that 3rd corner and finally add some extra wadding to the 4th corner before doing the final zip up. Make sure you don't get the wadding stuck in the zip. Depending on the size and plumpness of your cushion insert, you may need only a small amount or potentially a large amount of wadding to create the right effect. You'll be pleasantly surprised at the difference it makes to the overall look of your cushion.


10. ADD THE FINISHING TOUCH WITH A "KARATE CHOP"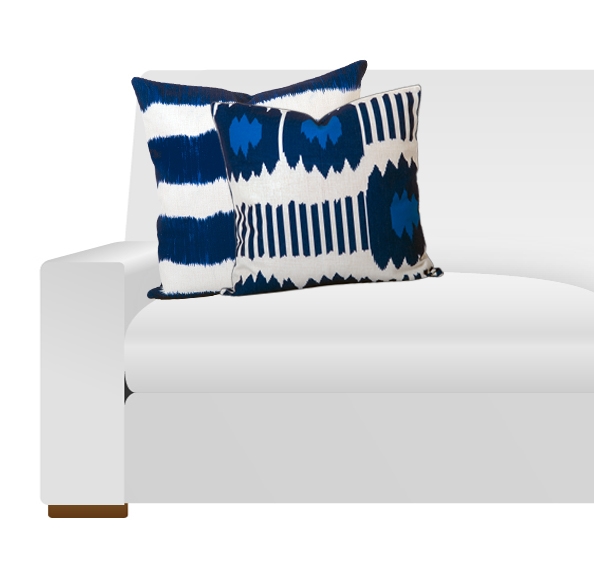 Personally I'm a big fan of the "karate chop" look. It gives your cushion a stylish, yet lived in look and makes the cushion look as plump and comfortable as possible. This effect is created when a cushion has been fluffed up, put in place and then a dent has been made in the top of the cushion's shape by literally doing a karate chop style movement with your hand to the top of the cushion. You can only achieve a karate chop finish with a feather insert because the fill is heavier than polyester and can therefore retain the dent from the karate chop. Hiyah!