Tribal Chic! Style Guide to Creating a Luxurious Tribal Look:
Posted by Debbie & Natasha on 7th Sep 2015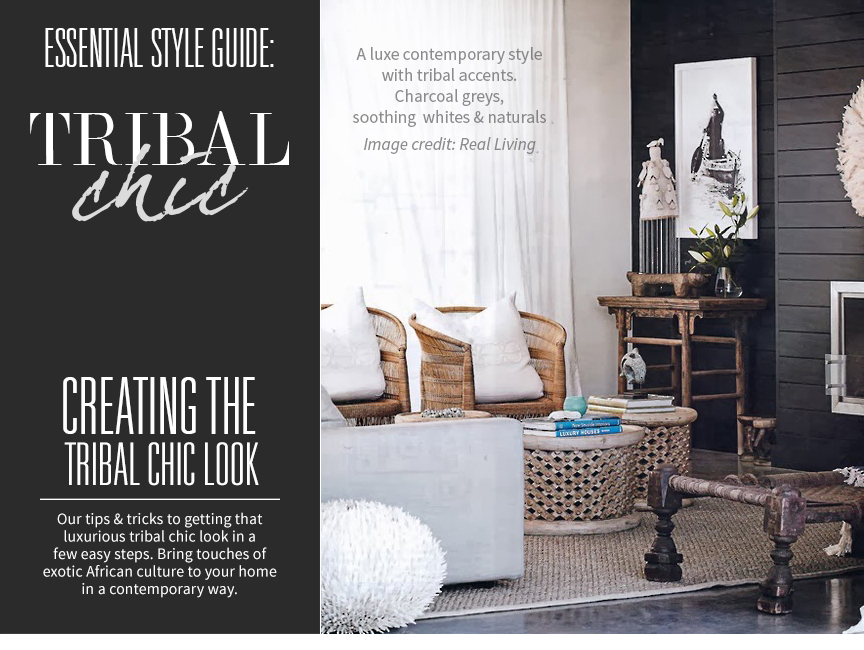 Tribal Chic is a luxe contemporary style that is trending right now in the interiors & fashion world. This look is about reconnecting with nature by using organic handmade pieces made from rustic, raw materials & making an impact with bold tribal accents. Follow our easy five step Style Guide to achieve a stunning exotic luxurious look in your own home.


To achieve a chic African Style, think warm natural tones such as sandy yellows, warm browns combined with whites, charcoal & ebony. The key to executing this look is to use natural textures such as timber, natural jute, leather, fur, hides and bone accents.
TIP: Decorate around a neutral scheme, use bold charcoal greys and whites, (even blacks) for wall colours. Add drama with contrasting colours: contrast white with black & use accent colours sparingly.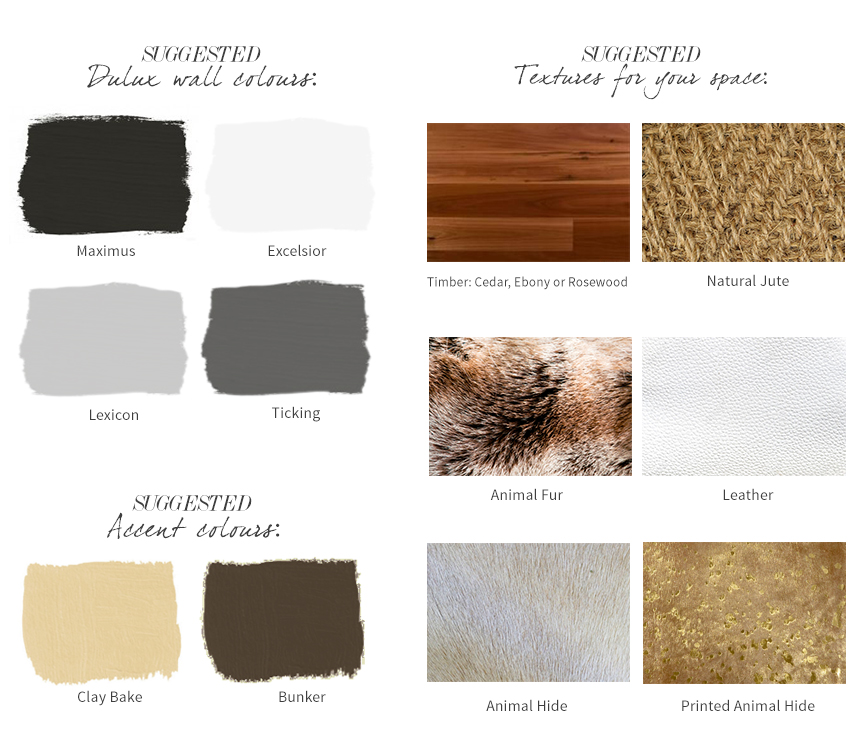 Start with a neutral colour scheme and add texture with beautiful natural & handmade pieces. Use a jute rug, animal hide or throw on the floor & add rustic handmade pieces for a sophisticated African look.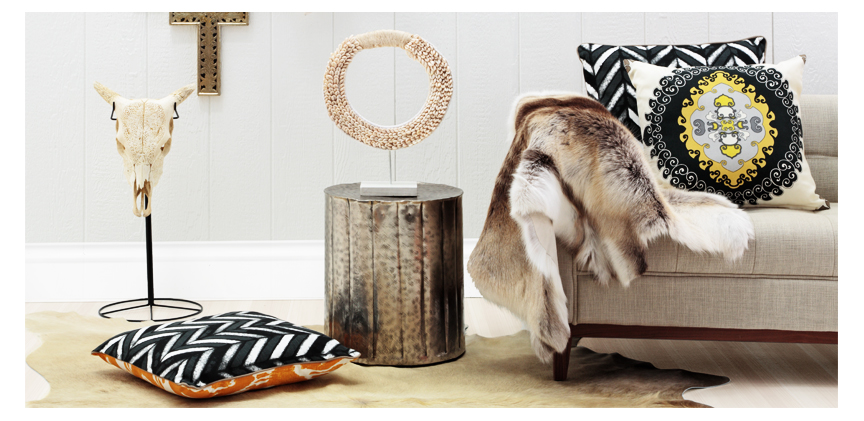 There are some amazing tribal and african home decor and furniture pieces available, which can be the centerpieces of your look. The trick is to keep it very modern and accent with a few tribal home decor . Its best to either pick one hero piece of beautiful exotic furniture, such as a bamileke table or bone inlay chest of drawers and make that the centrepiece. Complete the look with smaller tribal accents such as shell necklaces, a reindeer hide throw, or even something extra special like a carved bone skull.
TIP: don't over-do it with Tribal accents. Use a few key pieces or group a collection or display together eg, have a display of baskets or showcase artefacts as a display in one area.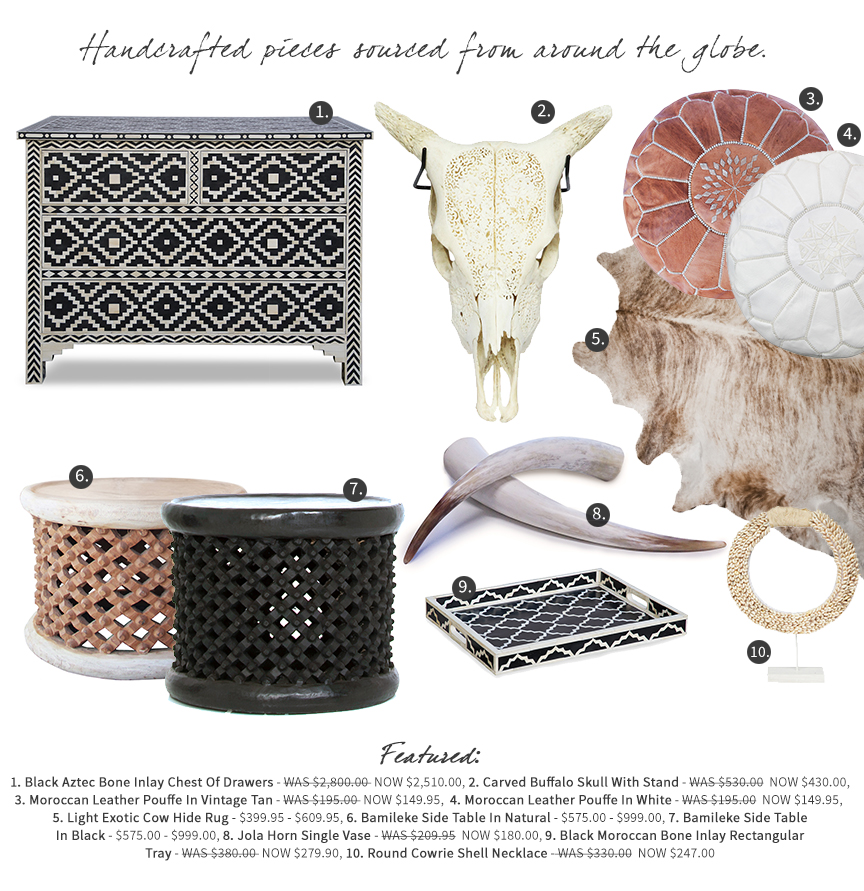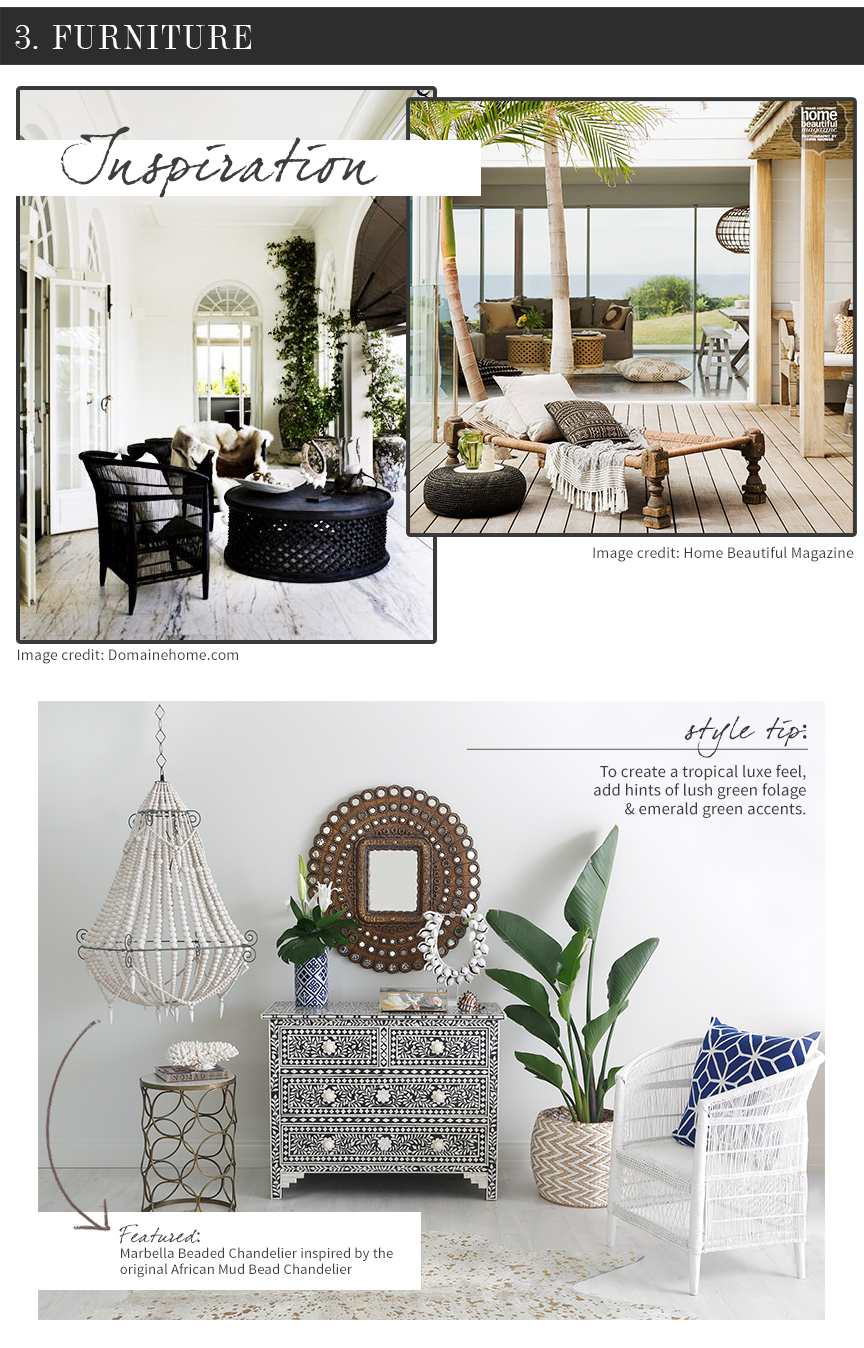 Malawi chairs & Bamileke Tables are very popular tribal furniture pieces, available in white, black or natural - these beautiful pieces with their striking colours and raw materials, will definitely make a strong tribal statement. Each table is hand carved from one single tree truck, which makes each piece special & unique. Also feature above is the black bone chest of drawers which makes a stunning statement in any living space.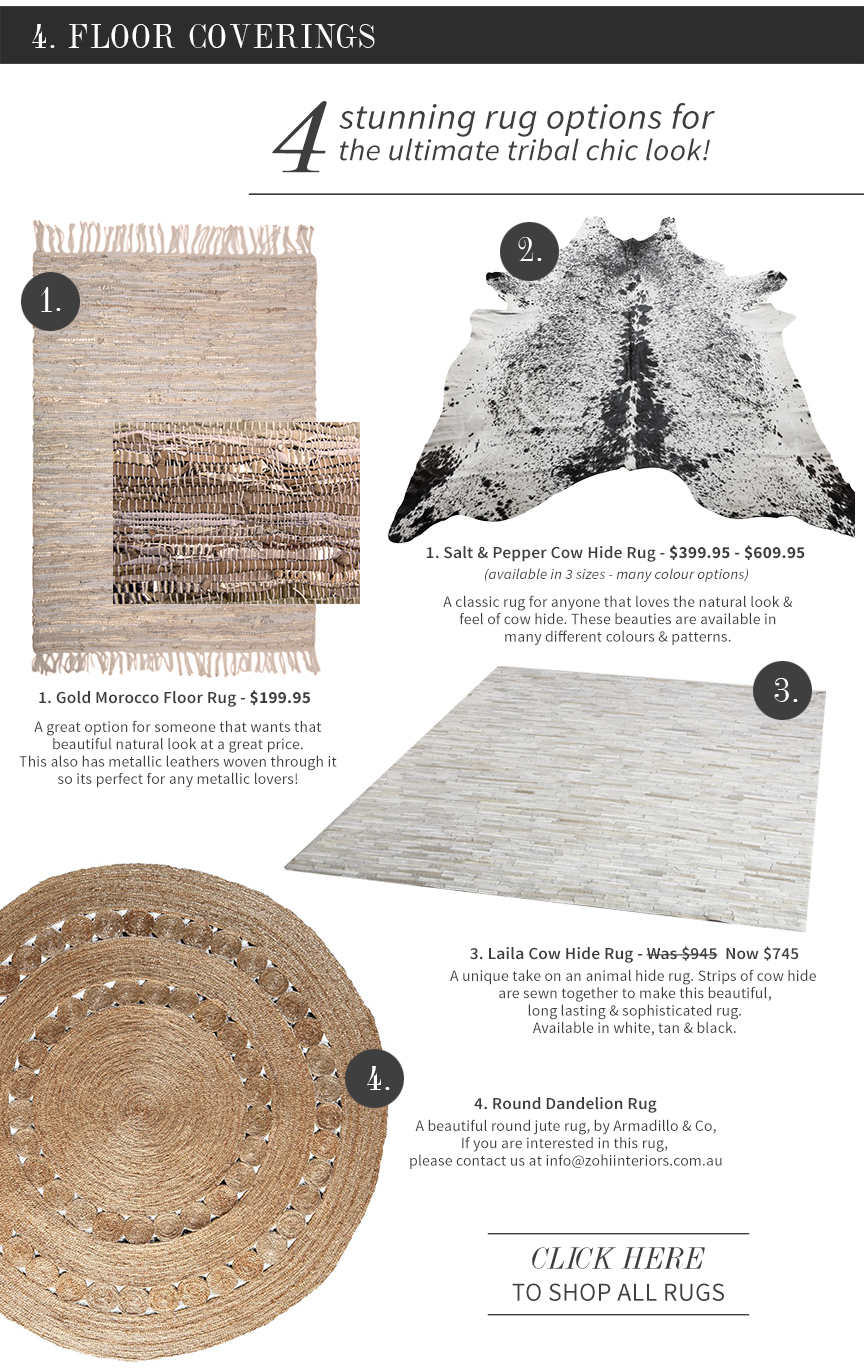 Floor rugs add warmth and create intimate spaces in a room. Use natural fibres such as sisal, jute, leather and animal hides. Check out our full range of beautiful rugs here
TIP: contrast rug colour with floor surface to keep the look interesting & add some drama e.g light sisal rug over dark timber floor.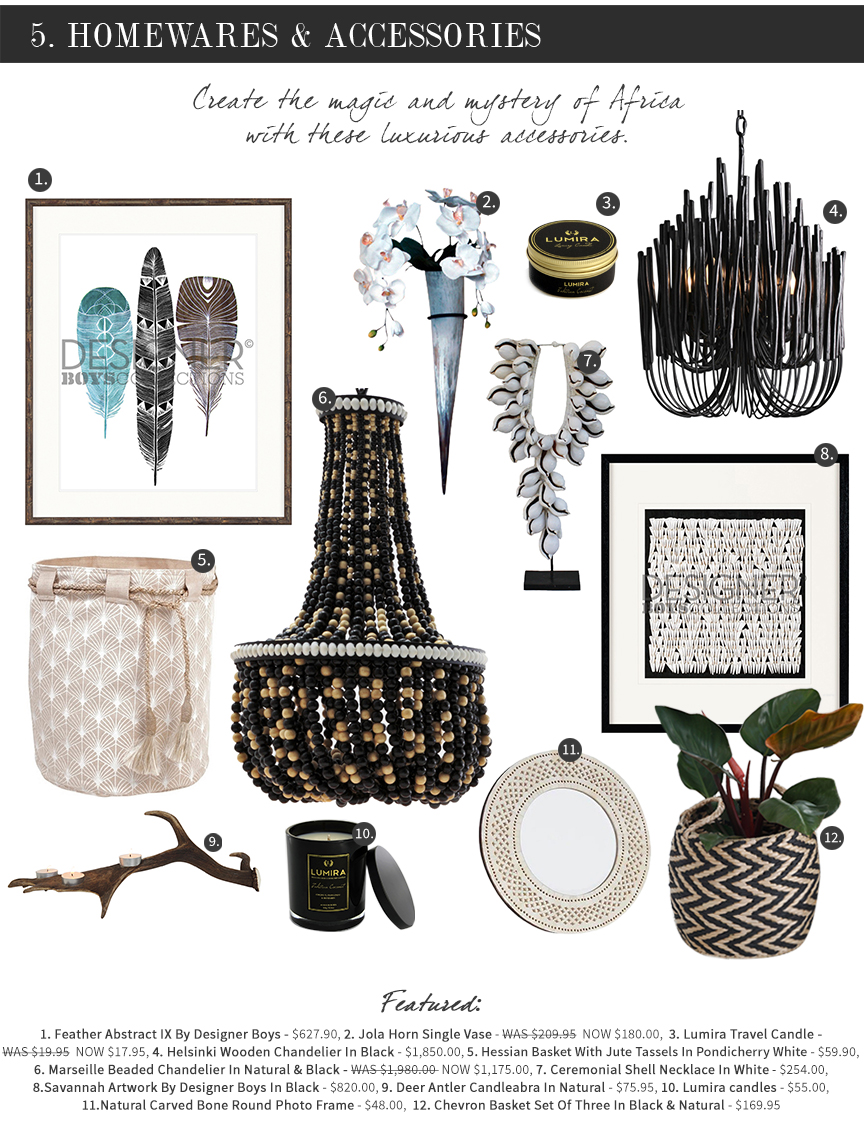 Homewares & accessories are the perfect way to add those finishing touches to any space. Using a few unique pieces, that will really tie in your tribal look.