Emerald Dreaming
Posted by Zohi Interiors on 15th Dec 2013
Every year the world renowned authority on colour Pantone, releases its colour of the year and the design world waits with bated breath. Previous years have seen Honeysuckle Pink and Mimosa Yellow wear the crown but in 2013 it's all about Emerald.

We couldn't be happier with the judge's choice and think Emerald represents an organic lusciousness that truly inspires. To celebrate we have created a style board using our top Emerald picks.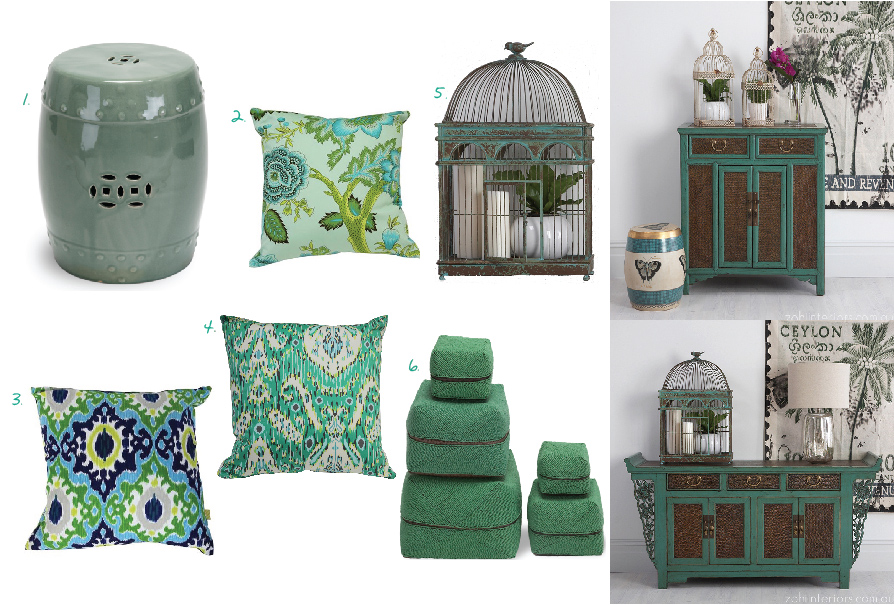 Featured Products: 1. Jade Ceramic Stool 2. Tree Blossom Cushion in Lime 3. Maasai Cushion in Blue
4. Kasbah Cushion in Emerald 5. Pagoda Avairy Cage 6. Beaded Bali boxes in Green.
Top Right:Emerald Chinoiserie Small Cabinent Bottom Right: Emerald Chinoiserie Cabinent