Four Steps to Love Your Home in 2013
Posted by Debbie Voudouris (2nd February 2013) on 2nd Feb 2013
Welcome to our first Be Inspired Blog!
It's the start of the New Year and also our first blog. What better time to think about New Year's resolutions for your home. Get it right and I guarantee it will make you happier, raise your spirits, relax you and make entertaining a joy. I want you to LOVE your home, where your heart beats a little faster every time you open the door. This calls for a re-think on the way you live in your home. It's not just about the look of a room, it's about the energy of a space, the way it makes you feel.
Re decorating your home consciously is a new way of thinking. This may sound too challenging for some, so I will break it down into four easy steps.


Step 1: Set the Mood - How do you want to feel in your Home?
Life is about emotion, how you feel moment to moment, day to day. Our lifestyles today are so busy and multi tasked. We want our homes to be our personal retreat, a place we can feel safe, rested and uplifted. Ultimately, you want your home to evoke feelings and memories that make you happy and your heart sing with joy.
Start by thinking about what you are instinctively drawn to. What are the feelings you need to be at your best. These are personal to everyone. What is the perfect environment for you? Is it a space that invigorates and stimulates you? Or do you prefer more a tranquil and calming environment to unwind and relax.
Look at the different areas and functions of each room in your home. You can evoke a different feeling mood for each space. For example, you may want to feel inspired in your office, fun and lively in the kitchen and rested in the bedroom.
Become aware of energy of a space by observing how you feel in it. A peaceful and tranquil mood requires harmony with colours, shapes , textures and space around objects. A more stimulating environment calls for contrasting colours, shapes, textures and interesting pieces. If a space doesn't feel right to you ,change or edit one thing at a time and see what happens. Trust your instincts.
Here are some mood looks to inspire you..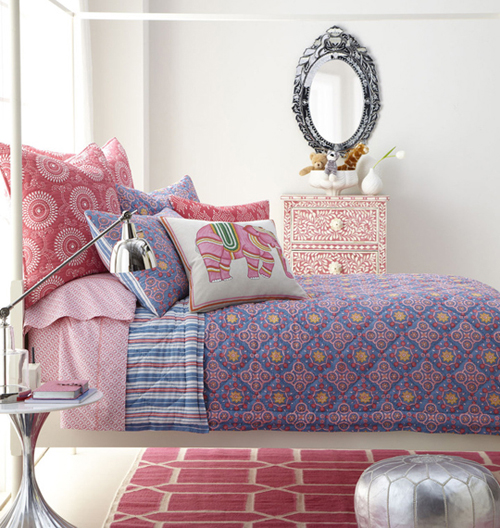 John Robshaw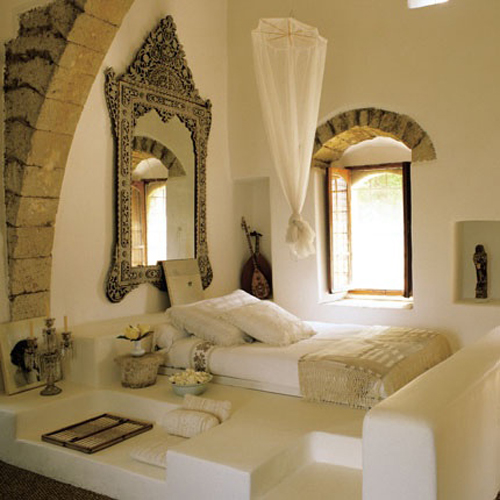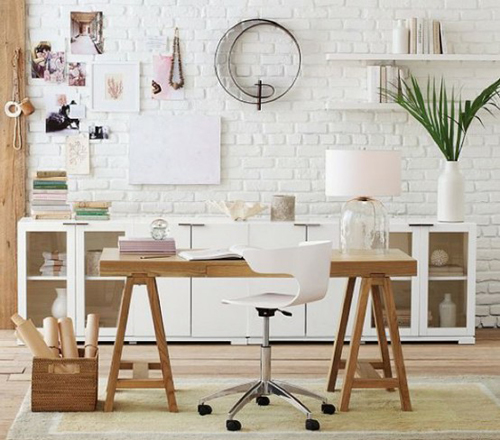 Kim Ficaro via Pinterest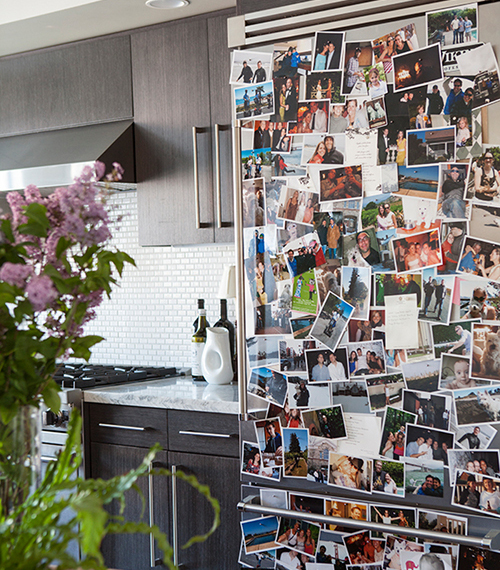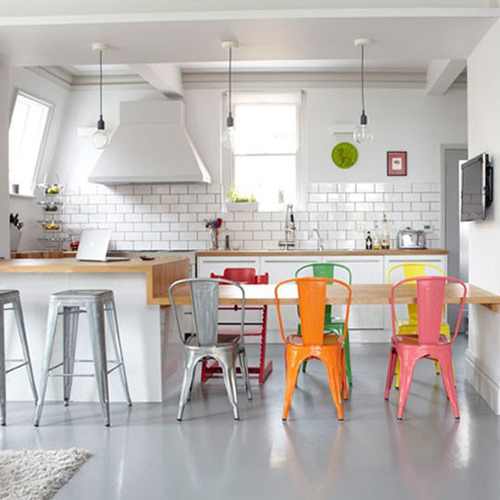 thekitchn.com


Step 2: Get Inspired - Creating your Mood Board
A beautiful space is simple yet layered with special pieces and personal items that tell a story, evokes a feeling or takes you on a journey of discovery. You know you have hit the spot with your space when it transports you to a special place you love to be in. Get inspired by looking at images in magazines and blogs and get a feel of the style that draws you.
Create a mood board with images of places, rooms, pieces and objects that you are instinctively drawn to. The possibilities are endless with mood boarding! Why not create a mood wall with beautiful images and bits & pieces, it will make a stunning display and inspire you to go for it. If your technologically inclined, build up your mood board on the computer using furniture pieces you love, colour schemes, finishes and don't forgot the finishing touches such as soft furnishings, lighting and home accessories that make all the difference. Or grab some cardboard, fabric cuttings you love, colour swatches, tiles, shells, anything! It can be as simple or complex as you like, if your short on time why not start collecting magazine pages or images you see online.
Personally, I am drawn to exotic coastal settings. I want to feel like I am at a seaside retreat all year round. I draw my inspiration from my travels to exotic destinations, Mykonos and Ubud,Bali are a stand out. I love lots of white, exotic gardens, natural materials, stone, linens, fine cotton rattans and wood in neutral colours with splashes of colour and graphic patterns.
Take a look at some mood boards below that might inspire you.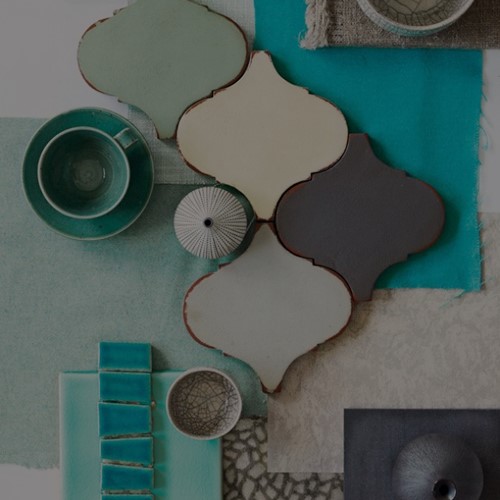 interieurblog.villadesta.nl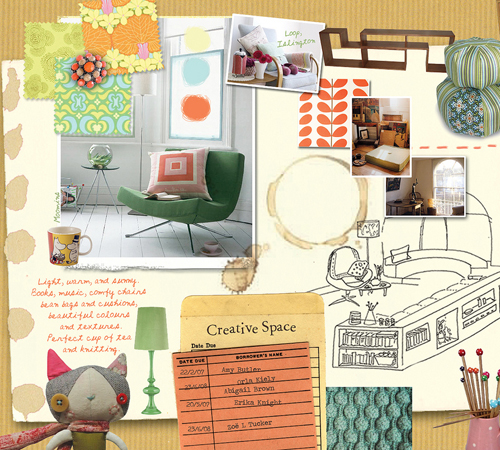 decor8blog.com

decor8blog.com





Ksarahdesigns.typepad.com

stylizimo.com



Step 3: Letting Go - Space Matters
We have so much stuff that we accumulate over time. Most people don't have homes beautifully well thought out spaces. They are filled with old and tired furniture, market finds, gifts, hand-me-downs and new finds all jumbled together incohesively.
When you are planning a room, it is important to start with an empty space. You need to take inventory of all the items in your space: furniture, accessories and everyday items, one by one , Ask yourself :"do I need this in my life?" Only keep items and pieces you love, items that have a story or evoke a special memory or feeling. When you intentionally place items and pieces you love , your space comes alive. Be conscious of the connection you have with each and every single piece of furniture . This is living or decorating consciously
By decorating consciously, you create a truly personal space that speaks to you and makes you happy and every time you enter the room.
Here are some beautiful well planned & personal spaces!



adesignlife.blogspot

Sfgirlbybay.com

Martin Lawrence Bullard

Step 4: Set your goals & Go for it!
Re-thinking and re-decorating your home can be overwhelming, so it's important to set your goals and a time frame to work towards to. Take it on as a project, and know that is going to be fun, challenging, inspiring and the end result will be well worth it. Why not start with one room, this way it will be manageable and once your first room is complete it will motivate you to keep going. Now that you understand how you want to feel and live in your home, and your inspired by the mood and look that you love, shopping for furniture and making those crucial selections will be so much easier.
Have fun playing with different looks and allow your creativity to guide you towards what makes you happy and your heart smile. We hope we can help you love your home in 2013!