Take me to the Hamptons: Style Guide To Creating A Cool Hamptons Beach Style
Posted by Debbie Voudouris on 10th Mar 2015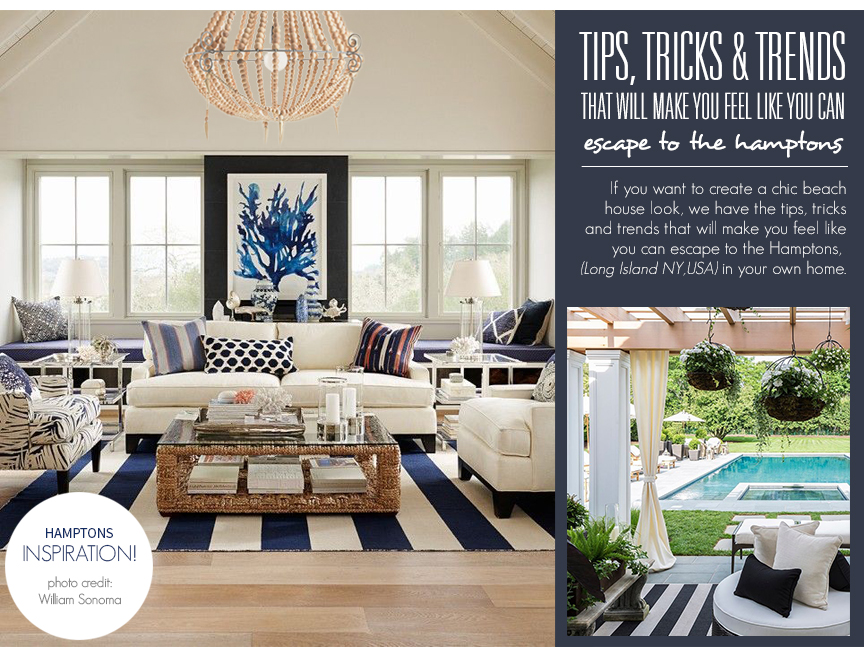 If you want to create a chic beach house look, we have the tips, tricks and trends that will make you feel like you can escape to the Hamptons (Long Island NY,USA) in your own home.
The Hamptons style is so popular, as it combines classic decorating, with rustic influences to create the perfect coastal retreat. Here is my style guide, on how you can create the classic Hamptons House or cool Beach House with Style.

Draw from the colours of nature; Neutrals, sandy creams, bleached timber tones & tinted blues - ranging from duck egg blue, aqua & navy. Or try warm corals, teamed with teal & charcoal. The trick is to stick to one colour palette.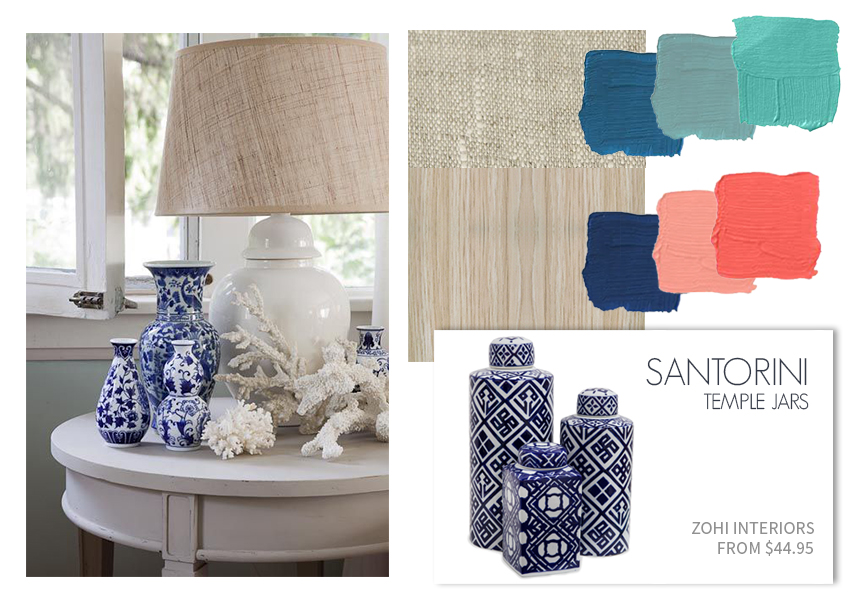 If you decide to go with neutrals only, keep it fresh by adding white & contrast with dark elements in the floor or other timber elements. For example, you can do neutral walls with white skirting boards, set against dark chocolate timber floors. The trick here is to add some drama with contrasting colours - but still keeping it simple.
If you love colour, the hottest trend right now is coral teamed with charcoal or alternatively using classic navy, set against metallic finishes. Be guided by your instinct to add interest and balance your space with splashes of colour on accessories – cushions, rugs and wall art.


Use symmetry & balance to create a warm & inviting space. The key is to create a focal point to bring the room together. Start with the large pieces first. Make one piece the hero, by purchasing the best you can afford.
Style tip: Balance clean contemporary pieces, with rustic imperfect pieces.

Choose generous sofas, either upholstered in natural fabrics, for a more dressed up look or rattan & wicker for a casual beach feel.
Style tip: Select a more classic sofa style in linen rather than a leather or modular sofa. Team with paired occasional chairs in a contrasting style & fabrics to add interest.

Use chandeliers over a dining table, in stairwells & centred in living rooms to make a "wow" statement. Create ambiance with paired table lamps.
Style tip: For a beach style, try these cool shell lamps such as the Paradise Shell Table Lamp or the Metallic Delta Crackle Table Lamp for a classic Hampton's style. The Marbella beaded chandelier would also make a stunning style statement.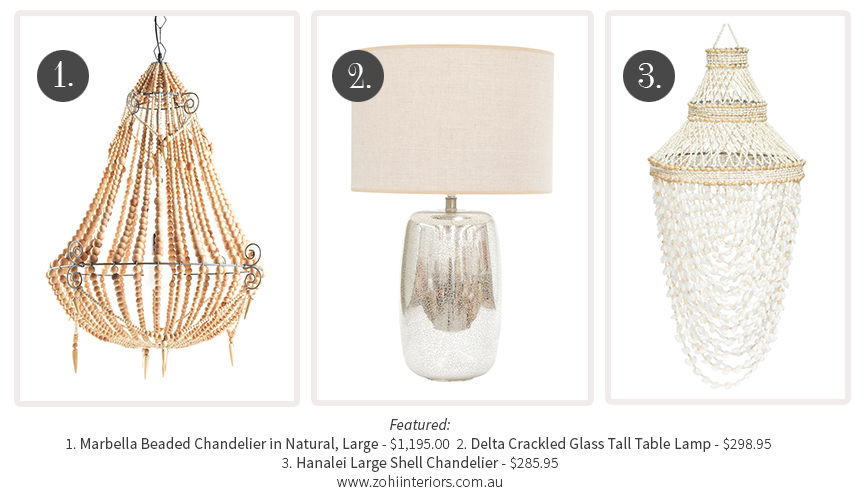 Dark timber floors work best for a classic Hamptons look, or in driftwood timber tones for chic Beach House style. Natural rugs such as sisal & jute add texture & interest.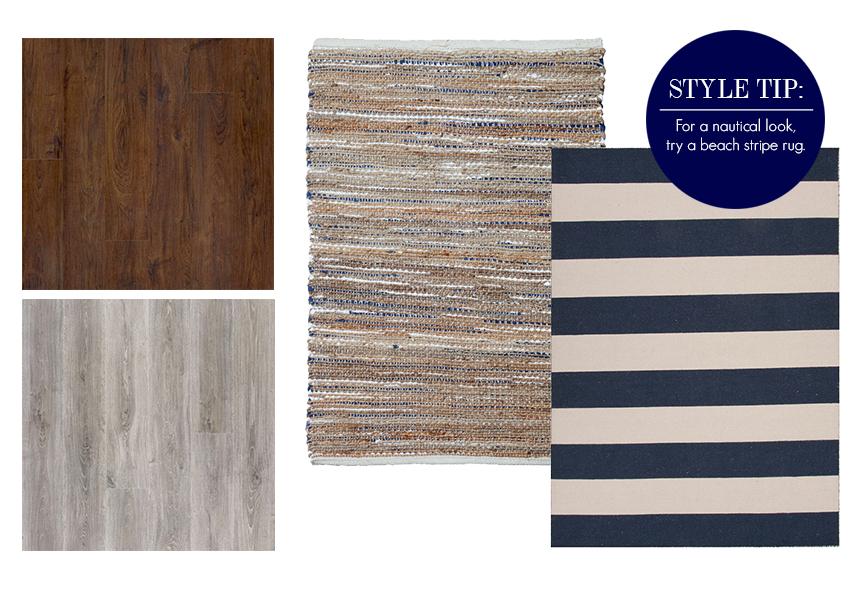 Think natural materials and finishes to bring texture & warmth to your scheme: linens, cottons, dark timber floors, sisal & jute rugs, natural coral, shells as well as bone inlay pieces.


Accessories add personality & life to your space. Layer your room with cushions, throws, baskets, hurricane lamps, and wall art to evoke coastal or nautical elements.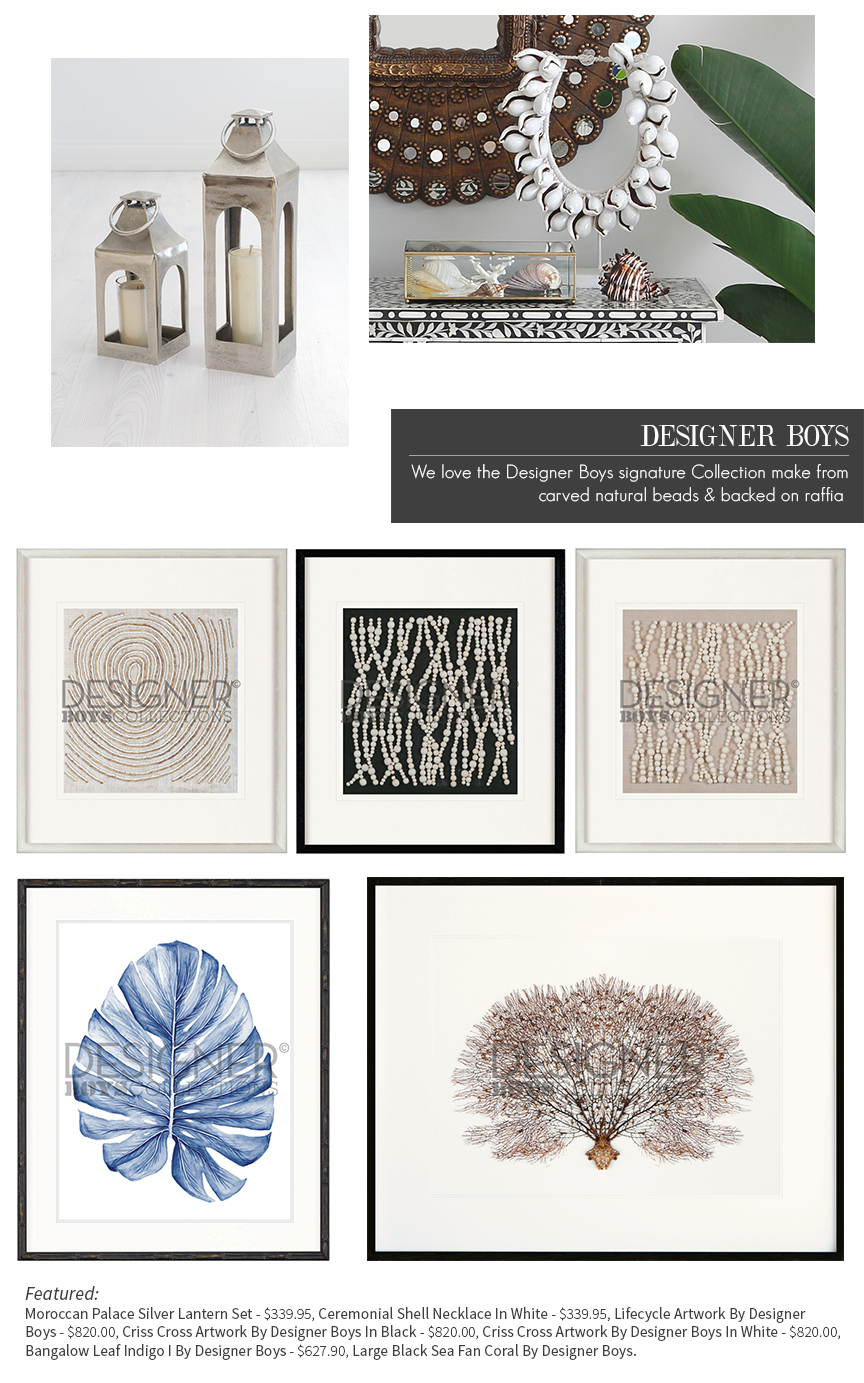 I hope you enjoyed reading my style guide, and hope it gives you a little Hamptons Inspiration!
Debbie xx