Summer Finds: Our top-picks to inject a touch of Summer into your home before Christmas
Posted by Zohi Interiors on 4th Dec 2013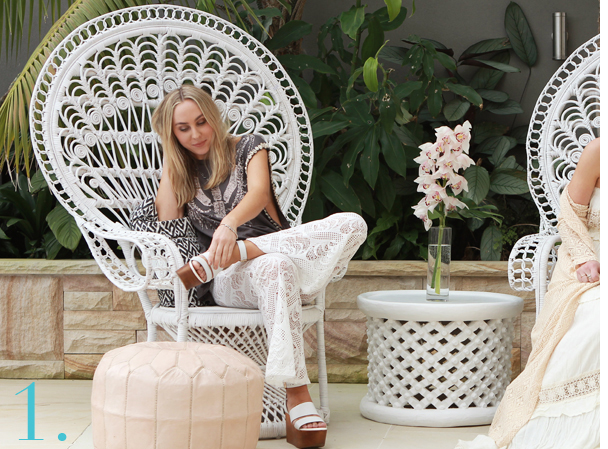 1. Peacock Love
Peacock Chairs are the ultimate statement piece, with their impressive size and intricate details they are sure to instantly add a touch of tropical summertime cool to your space.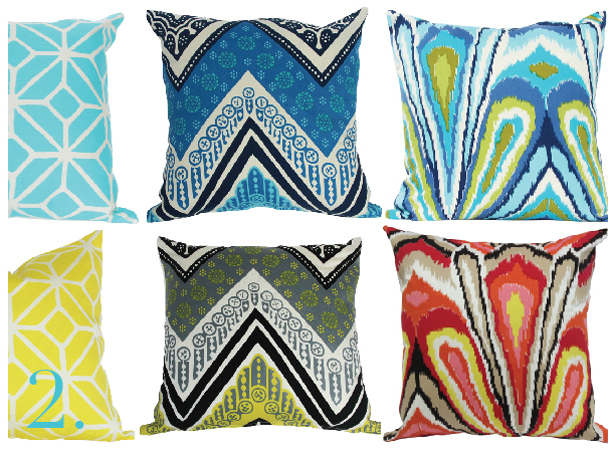 2. Colourful Cushions
A new set of bright & colourful cushions is a quick and effective way toquickly update your sofa, bedroom or outdoor area. Plus they are also super comfy! Free Shipping on all Cushions to metro areas.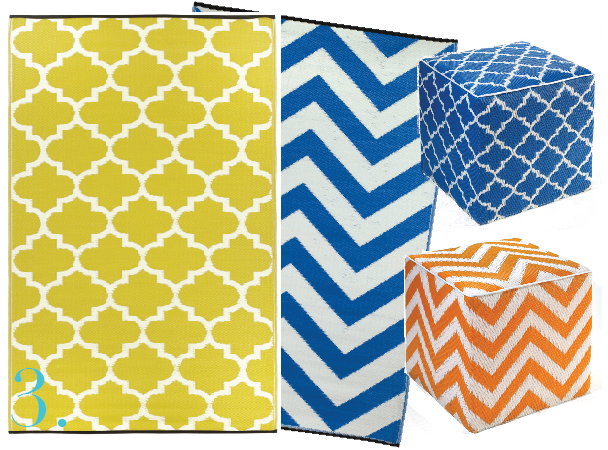 3. Outdoor Rugs & Ottomans
Fabulous prints and beautiful colours is what our collection of outdoor rugs & ottomans is all about! These outdoor rugs come in a range of sizes to suit your space. You can also use them as a picnic rug or beach mat. Enjoy fabulous prices plus free shipping (to metro areas).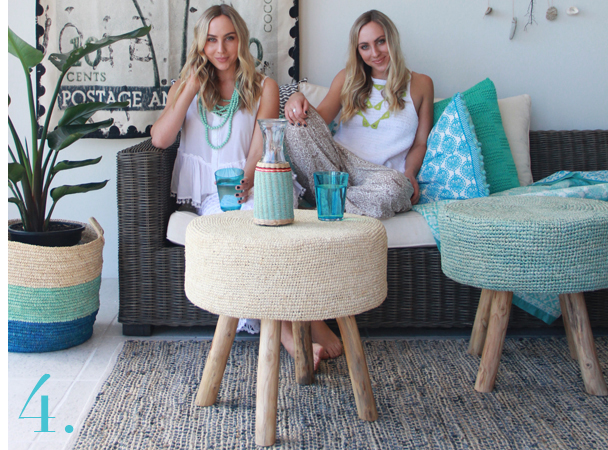 4. Coastal Stools
These cute-as-can-be stools are screaming beach house meets scandi chic. They are also multi-purpose, use as extra seating or as a side table. Available in two beautiful colours Natural and Seafoam. Pre-order yours now for delivery approx mid-late Jan to secure this strictly limited stock. Although they are not arriving before Xmas, we think they're worth the wait!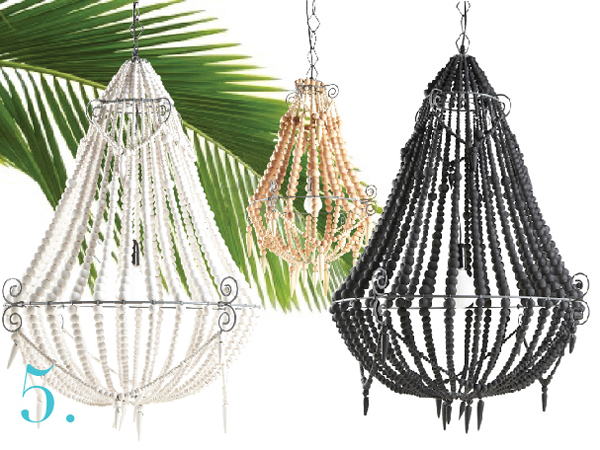 5. Take me to Marbella
Our ever-popular lust have Marbella Beaded Chandeliers are the perfect piece to bring a bohemian luxe vibe to your home. Available in White, Charcoal and Natural in two sizes. Mix with tropical greenery, coral and bone inlay accessoires for an exotic tropical look. Currently on SALE too!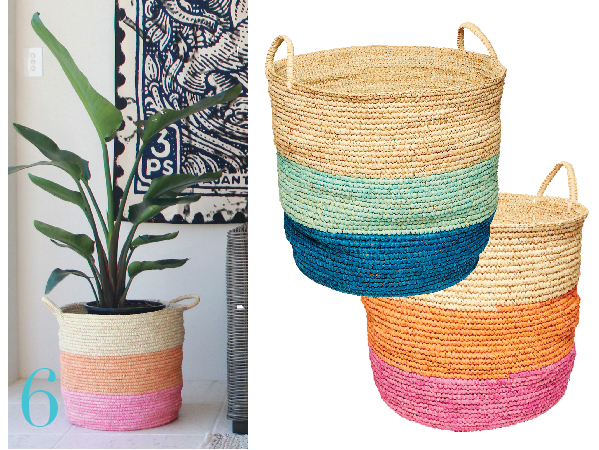 6. Rattan Baskets
Use a basket to keep things beautifully tidy at home this summer, perfect to store beach towels, toys, magazines and more. We love to use these baskets as a planter, add a banana leaf palm or strilitzia and your good to go! Available in two stunning colours Flamingo Pink & Seafoam.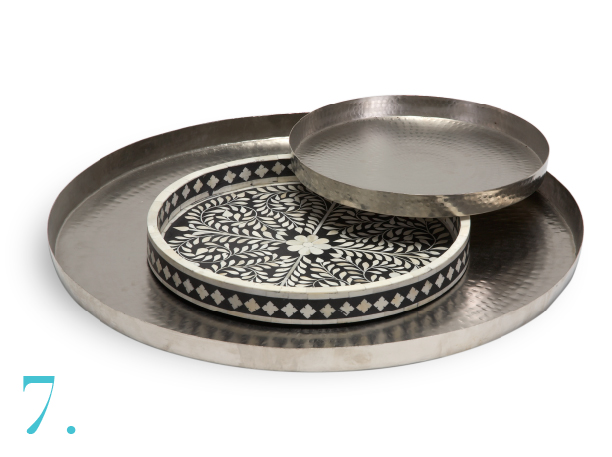 7. Beautiful Trays to instantly add style
We couldn't have said it better ourselves 'Trays instantly make an assortment of accessories look chic and styled' quoted from Jessica Waks of Style at Home. Update your existing accessories of candles, books and any bits & pieces with a stunning tray.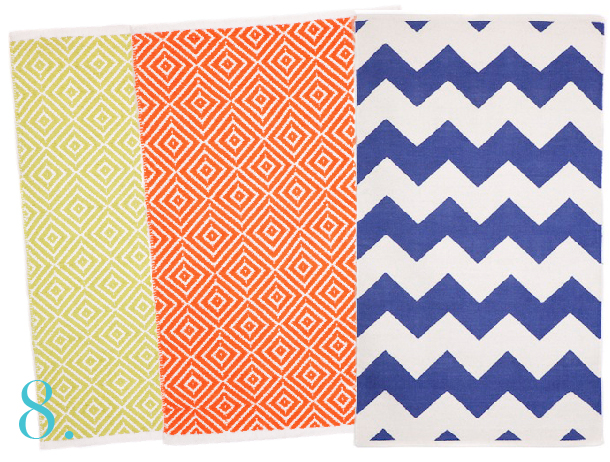 8. Easy living with soft Cotton Rugs
We have recently added a new collection of Cotton Dhurrie Rugs. They're super soft and available in a range of stunning colours and prints such as chevron, diamond patterns and subtle stripes! They're beautiful and affordable + free shipping to metro areas.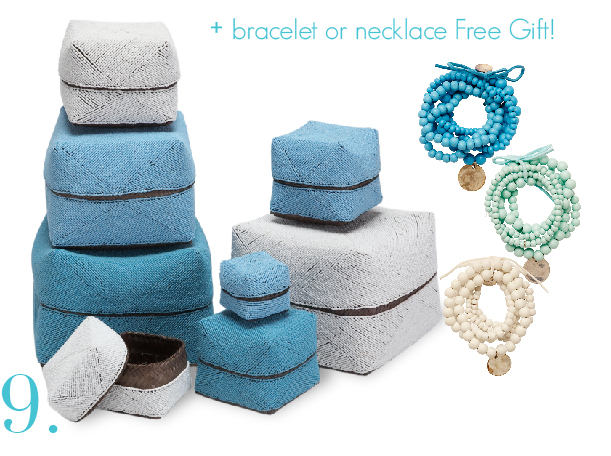 9. Beaded Bali Boxes
Stack them, open them, close them – either way they'll look fabulous! These meticulously hand-beaded boxes are a stylish way of storing your little bits and pieces. Plus we are now offering a free gift with every Bali Box purchase, with a range of beautiful beaded bracelets and necklaces. Hint: they also make a great Xmas gift!
We hope you have enjoyed our top summer finds as much as we enjoyed putting them together!
Shop all of our summer finds here:
Heres a little bit of housekeeping information with our Christmas order cut-offs.
We will be open right up until Monday 23rd December. We have so many beautiful pieces and gifts ready to go off to new homes. To ensure your order arrives before Christmas, please place your order by the following dates:
Sydney metro: Friday 20th Dec
Brisbane & Melb metro: Thursday 19th Dec
Perth metro: Monday 16th Dec
Adelaide metro: Tuesday 17th Dec
Regional areas: contact us for an estimate
This is according to our couriers schedules, although this is subject to any unexpected delays (Fingers crossed everything rungs smoothly!)
Merry Christmas
Love the Zohi Interiors Team xx