How to turn your home into a Sanctuary
Posted by Zohi Interiors on 20th Oct 2013
With the stresses and worries of modern day life, it's more important then ever for our homes to act as a tranquil retreat to relax in after a hard day at the office. Our homes should be our haven from the chaos of work, technology and other pressures of the outside world. With people becoming more time poor, we want to make the most of any relaxation or down time we have in our home, and feel a sense of luxury when we can.

Dressing the home is not just about following a stylistic trend, a yearning for decoration just for decorations sake; it's a recovery of the original sense of home. Below we've listed four of our top tips to turn your home into a sanctuary; a place you can relax, recharge and unwind.
Bring the outdoors in and the indoors out:
Luxury can be found in the simplicity of nature. Using colours and textures inspired by the outside world in your home, will project the tranquillity of nature. You can bring the outdoors in using colour, such as mossy greens and aqua blues. Nature can also be introduced through a more subtle gesture. Interiors can be infused with water features, glass, translucent materials and organic forms to infer a reference back to nature.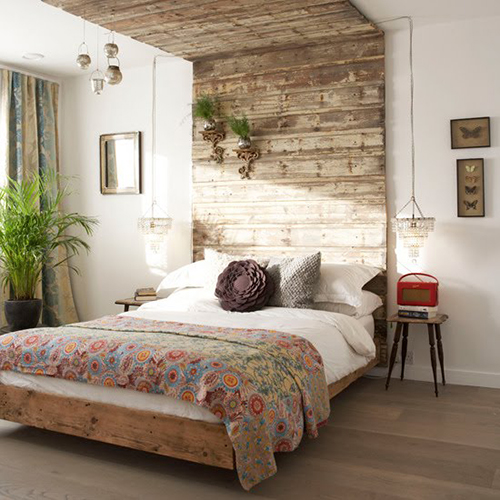 Wood is the new ultimate bedroom accessory providing instant warmth and texture. Image from Clearspace.

Image from Desgin you trust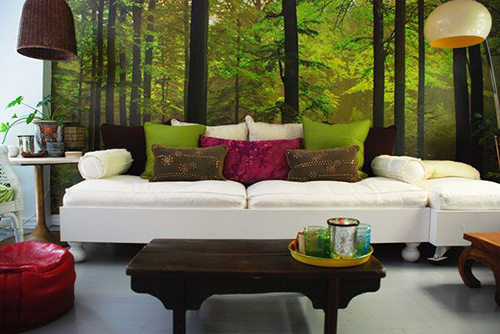 Wallpaper is right on trend at the moment, so it's never been easier to create a motif that reflects nature in a bright, interesting way. Image from Freshhome.

Image from Intralled
Transform your bathroom into a Spa:
The room in the home with the most potential for relaxation is undoubtedly the bathroom. Weather you have a shower to steam in or a big bath to soak in, bathrooms should be a clean, serene space where we can wash away our worries.

You can create a luxurious mood in your bathroom with touches of glamour such as a chandelier, statement mirror and large fluffy towels. The most important way our moods are affected in bathrooms is lighting. Opt for a natural light during the day, and a dimmed or candle lit light at night for the ultimate soothing ambiance.

Image from Apartment Therapy.

Image from HGTV.

Image from Interiornity

Add affordable Luxuries:
When it comes to serenity, the beauty is in the details. Think about the colours and smells that make you feel most comfortable and relaxed and incorporate these throughout your home. Scented candles, fragrant soaps and fresh flowers are all cost effective indulgences that can transport you to a calm and relaxed mind space.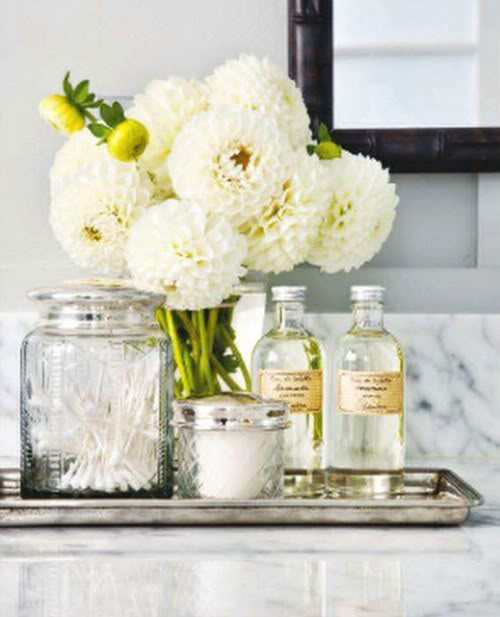 Arranging soaps, candles and flowers on a decorative tray can add instant charm to any room.
Image from Home and Heart
Introduce soft and comforting textures:
As well as our sense of smell, the ability to touch and interact with the objects in our home is extremely powerful in effecting our moods. Introducing soft and enticing textures into our living spaces subconsciously provokes us to soften and relax mentally.

Comfortable, supportive cushions and lounges are so important to our well-being. Equally essential to having a calm mind set is having soft linens and a comfortable bed. After all, the better rested we are the more at peace we will be.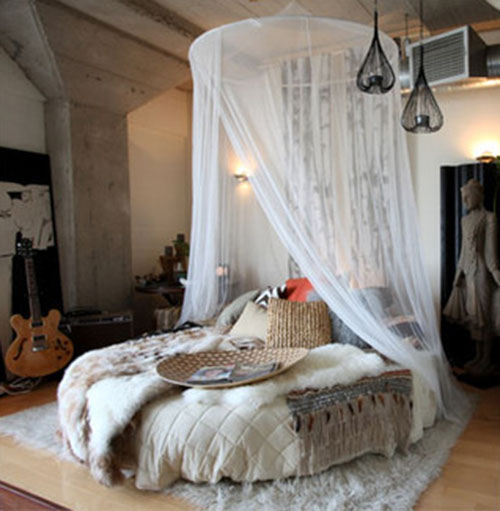 The soft fabrics and cushions in this room create a relaxing oasis perfect for an afternoon nap.
Image from Fyah.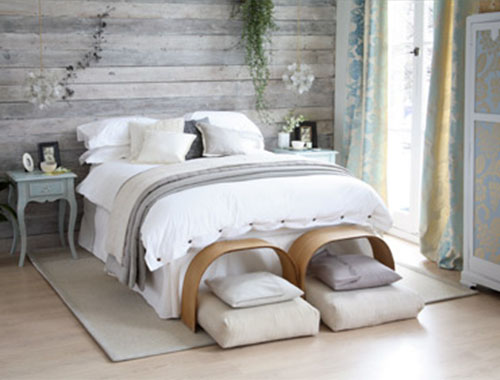 The soft colours and textures of the linens and wallpaper in this room give it a tranquil, relaxing feel.
Image from All about You.